Build: 2014-09-10 22:13:06
Simulation settings
Click in the window to paint.
Samples
Click on an image to apply the physical parameters to the simulation.
Gray-Scott Reaction-Diffusion
About the applet
This Java applet simulates two chemical agents bound by the Gray-Scott reaction. Stepwise integration is used, and diffusion is modeled in the simplest way possible.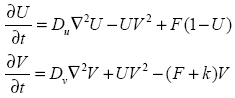 More functionality and information will be added here later.
To improve performance, disable the Scatterplot and Histogram displays.
Clicking in the window sets local values.
Left-button: U=0.5, V=0.25
Right button: U=1, V=0
Links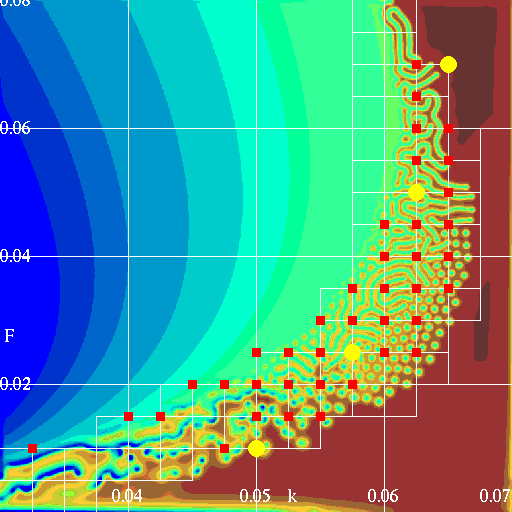 Unfortunately, one of the resources that helped inspire this project seems to be non-existent. Xmorphia was a project at caltech that used supercomputers to run reaction-diffusion simulations like this one. The project site used to offer images and movies linked to a phase-state map (the image at left). Though the project site is MIA you can visit Roy Williams here: http://www.cacr.caltech.edu/~roy/
You can find more information about the Gray-Scott equations at:
http://www-swiss.ai.mit.edu/projects/amorphous/GrayScott/.